Private Transfer in Geneva
Private Transfer in Geneva


Book a transfer via
messenger in 2 clicks


Taxi booking
without prepayment!


Support 24/7

Taxi booking without prepayment!

Book a transfer via messenger in 2 clicks

Support 24/7
Taxi from Geneva airportto Geneva city and another destinations
From Geneva airports you can also reach ski resorts of Italy, France and Switzerland. Ports of Genova and Savona, lakes Como, Garda and Maggiore, or make a transfer between Malpensa, Bergamo and Linate.
Our company provides those services too.
Popular destinations from Geneva
| | |
| --- | --- |
| Geneva airport - city centre | from € 100 |
| Courchevel | from € 400 |
| Chamonix Mont Blanc | from € 400 |
| Milan | from € 550 |
| Megeve | from € 220 |
| Lozanna | from € 150 |
| Zermatt | from € 650 |
Geneva airport to city center taxi service
Genevataxiairport.com is a service for a quick and optimal way to order a taxi from Geneva Airport. Arriving in Geneva, you no longer need to look for a taxi stand and explore the area on the map. Our driver will be waiting with a nameplate in the arrival hall to transfer.
For booking Geneva airport taxi service you will be able to choose an economical car and a Mercedes E-class sedan for 3-4 seats for passengers. For 5 and 7 passengers, we offer an economical Renault Traffic minivan taxi and a Mercedes V class business class minivan to transfer. For 8 or more passengers, we offer comfortable minivans taxi and Mercedes Sprinter minibuses for 8-16 passengers to transfer.
After ordering a taxi Geneva to the city center or another place, the dispatcher will contact you to clarify the details of the transfer. We will need to inform:
The exact date and time of arrival in Geneva
Flight number
Number of passengers and address
Including additional transfer requests. If you are carrying oversized luggage or you need child seats, as well as intermediate stops – all this will need to be reported to our dispatcher by WhatsApp or e-mail.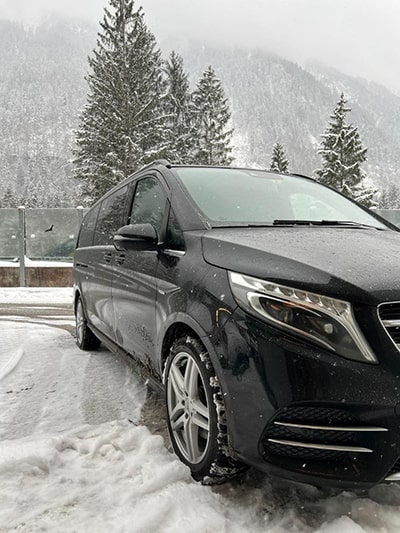 Large taxi 5,6,7 and 8 seats at Geneva airport
For large groups of tourists, we offer spacious Mercedes V class minivans taxi (up to 7 seats) and Mercedes Sprinter minibuses taxi (16 seats) – so that you can transfer from Geneva and feel comfortable on the road. The transfer minivans will fit not only all the luggage, but also ski equipment – skis and snowboards.
How to get from (to) Geneva to city center
For a comfortable trip, it is most convenient to order a taxi from Geneva to the city. The driver will transfer you directly from the airport to the hotel door. Without any extra hassle, waiting and transfers in a comfortable car, you will transfer in Geneva.
VIP chauffeur service in Geneva by premium vehicles Mercedes S class, Mercedes V class for your transportation
A comfortable transfer to your destination without stress and excitement is an integral part of our service. We provide VIP service to our customers in premium class cars – Mercedes S class taxi and Mercedes V class minivan taxi. We are proud that all our drivers are punctual, without wasting a single second of your time polite, well-mannered. Always dressed in a three-piece suit.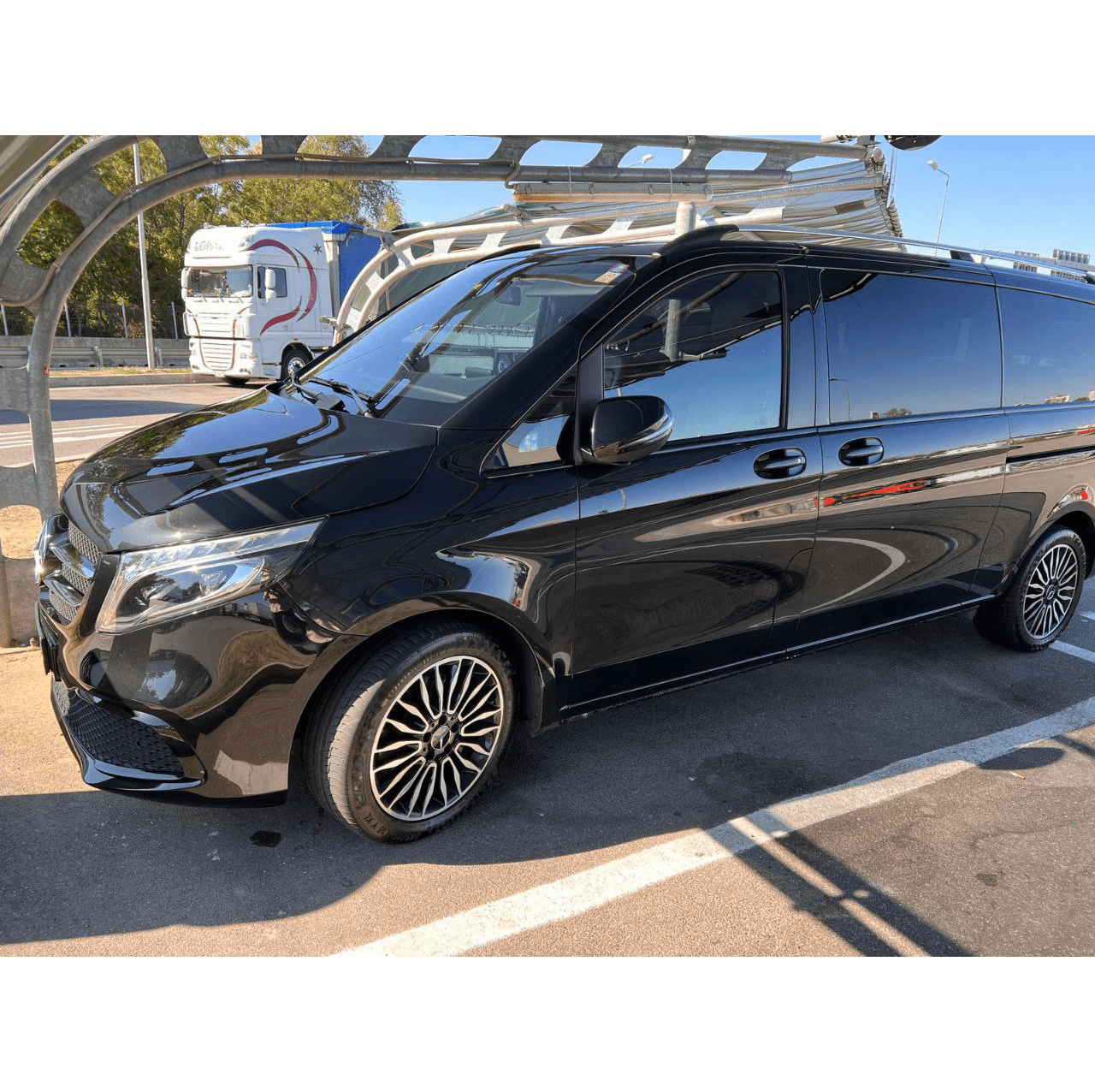 Taxi cost Geneva airport
If you're interested how much is a taxi from Geneva. The price of a taxi from is fixed. But it may change depending on the season and the availability of the car. As well as the availability of options for additional services. In winter and during the winter holidays at Christmas, there is usually an increased demand for taxi and transfer from Geneva Airport.
Therefore, it is better to book taxi Geneva airport in advance. With an urgent order, the taxi price Geneva may be higher or there may not be a free car at all. Therefore, to order a minivan taxi Geneva at a bargain price, it is better to make an order of transfer in advance.
Minibus taxi Minivan transfers from Geneva airport for hire with driver
Our company provides to hire cars to transfer with a driver from Geneva to city center as a passenger car and Mercedes V class minivan for 7-8 passengers and Mercedes Sprinter taxi for 9-10. We are also happy to offer minibus for 16 passengers to transfer.
Hourly car rental with driver in Geneva
Our company offers hourly car rental services in Geneva. For business meetings, moving around the city, to transfer to Geneva airport by taxi, you can use the hire car with driver in Geneva service. The driver will accompany you around the city by taxi and wait as long as necessary. At the end of the day, it will transfer you to your destination.
We provide transfer services not only from Geneva Airport, but also transfer to all Swiss cities from Geneva and Zurich. We also carry out transfers between ski resorts in Switzerland, France, Italy, Austria.
For the transfer, we use new cars no older than five years. All taxi periodically undergo a thorough technical inspection and control. Especially before a trip to the mountains. Cars always have water and Wi-Fi for our customers. Professional drivers who have been working in taxi in Geneva for many years will provide you with safety and maximum comfort during your transfer. Our priority is undoubtedly comfort, reliability and confidentiality. Every day we improve for you.
There are always phone chargers, water, Internet and other pleasant things in the transfer so that you feel comfortable on the way from Geneva and enjoy the trip every minute.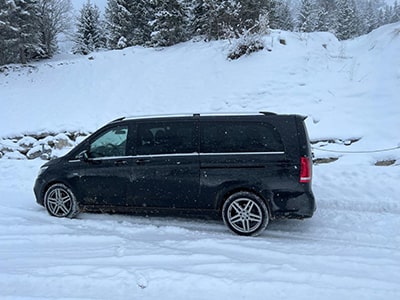 Frequently asking questions
How I meet the driver in Geneva airport
When you book a taxi from Geneva to city center, our dispatcher will tell you the phone number in whatsapp to contact the driver at the airport. Therefore, you can easily contact the driver if necessary.
The driver will meet you at Geneva Airport. The service of meeting with a sign is already included in the price of the booked trip. All our drivers are punctual and arrive at the airport by the time the plane lands and wait in the arrival hall. Before boarding the plane, the driver will send you a message in whatsapp or SMS that he has arrived and is waiting for you on the spot. We track the exit number and boarding time of the aircraft on the online scoreboard.
How many stops can I do from Geneva airport
During the transfer from Geneva to city center, you can make all the necessary stops. If you are planning an intermediate destination on the way, you will need to notify our dispatcher in advance when ordering a transfer. For stops with a wait of about an hour or more, you will need to make an hourly payment.
Can I share my transfer from Geneva to city center with another passengers
On our online service taxigenevaairport.com we offer to book only an individual (family and group) transfer  by a separate car. An individual transfer with a driver will be provided for you and your group to transfer you.
How do I pay my taxi from Geneva to the city
You can pay for a transfer from Geneva to the city in cash to the driver or by card. When booking a Mercedes Sprinter minivan, a part of the prepayment is required. And pay the other part to the driver. We also have an advance payment for the transfer at the height of the season, on holidays and on weekends. On days when the load is quite high.
If a taxi ride from Geneva is canceled or postponed
If your plans have changed and you no longer need to transfer from Geneva, then you need to notify us at least 24 hours before the expected transfer. If the plane is delayed, the driver will be waiting for you at the airport anyway. We track all flights online. If the trip is postponed for more than a day, then we also postpone the transfer and, if possible, appoint another driver.
How many luggage and suitcases will fit in the taxi?
The comfort sedan car can fit 3 large suitcases
The Mercedes E Class sedan and the Mercedes S Class premium car can fit 4 large suitcases.
The Mercedes V class minivan taxi can accommodate 9 large suitcases and hand luggage. The minivan is also suitable to transfer baby strollers, bicycles, wheelchairs, skis, snowboards and other oversized luggage.
If you have bulky luggage?
If you have oversized luggage, it is better to order a transfer in Geneva by minivan. If you transfer together and you have only 2 suitcases, but a pair of skis or snowboards, then you can order a sedan car taxi. Skis are placed in the trunk or box on the roof. If you have 3 suitcases or more, then a Mercedes V class minivan will do.
If you have a baby carriage and a couple of suitcases, you can also order a sedan car. If there are more suitcases than 3 pieces and a baby stroller, it is better to book a minivan taxi.
What about baby car seats?
According to the Swiss traffic rules, the child in the taxi must be fastened and be in the car in a child seat. Babies in a baby cradle. For children from 7 years old, car boosters are needed. When ordering a taxi from Geneva, we provide child seats absolutely free of charge. Thereby ensuring the safety and comfort of movement for you and your children.
How to book my taxi in Geneva
A quick and affordable Geneva taxi booking online can be made through the online form on our website. In the field for sending the feedback form, you need to select the date, time, place of departure, destination and number of people. Or just write us a request by email or via whatsapp messenger. Our dispatcher will contact you immediately and clarify all the details for ordering a taxi.  After confirming the booking, we will send you the details of the transfer. On the eve of the trip, you will additionally receive a notification message.
Is it possible to bring animals with you
We love pets very much. You do not need to pay extra for the animals transfer!